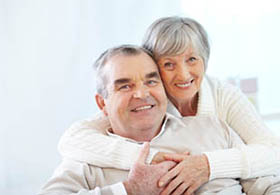 At Elite Family & Cosmetic Dentistry, we specialize in treating patients that are suffering from The Dental Implant Procedure. If you have been avoiding the dentist due to fear of what a procedure could be like or simply do not enjoy having dental work done, give us a call. In our Florence, Kentucky dental office, we can ensure that you are comfortable and relaxed regardless of what procedure is being performed. When you visit our office, Dr. Thompson will meet with you to discuss what treatments you need and create a plan for how to keep your mouth healthy while easing any fears that you have about dentistry or procedures in general. This way you will be informed and empowered to make decisions regarding dental care without experiencing any anxiety. We work with a local oral surgeon to put the implant into place. Dr. Thompson will then install the implant crown and handle your after care.
How can I ease my fears about dental care without medication?
When you visit our dental office, we can discuss ways that you can prevent experiencing anxiety while receiving dental care. In addition to the medication that we can provide, you can try relaxing by drinking a glass of tea. There are several natural varieties that you can purchase at the health foods store that will relax and calm you. At times, this can be enough to put you into a naturally relaxed state. Some patients also find that they benefit from meditation and acupuncture.
How can I prepare for my dentist appointment?
Another easy way to calm your fears is to visit our Florence dental office and meet with Dr. Thompson without having actual dental work performed. Taking the time to tour our office, where you can sit in the dentist chair and have a conversation, will allow you to become familiar with our staff and office environment. This way when you do have your teeth cleaned, and dental work performed; you are doing so in an atmosphere that you feel comfortable in with procedures being completed by friendly and familiar faces. During your consultation, we can also discuss what you can expect from a teeth cleaning or a specific procedure. This will help you to prepare mentally for how long it will take, what dental tools will be used, what you could feel during the process and what the recovery period will be, if any. At Elite Family & Cosmetic Dentistry, we have found that the more informed our patients are the more comfortable and relaxed they feel. This one appointment can help to alleviate the dental anxiety that you are experiencing.
Helpful Related Links
About our business, license, and website security
Elite Family & Cosmetic Dentistry was established in 2007
We accept the following payment methods: American Express, Cash, Check, Discover, MasterCard, and Visa
We serve patients from the following counties: Boone County, Kenton County, & Grant County
We serve patients from the following cities: Florence, Walton, Union, Burlington, Oakbrook, Richwood, Independence, and Dry Ridge


National Provider Identifier Database (1649685694). View NPI Registry Information
Healthgrades. View Background Information and Reviews
Website Safety Ratings and Reputation – AVG Threat Labs. View Details
Norton Safe Web. View Details
Trend Micro Site Safety Center. View Details
Back to top of The Dental Implant Procedure
The Dental Implant Procedure