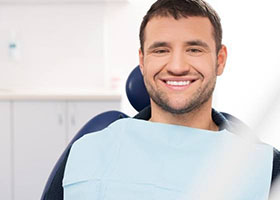 At Elite Family & Cosmetic Dentistry, we specialize in treating patients that are suffering from dental anxiety. If you have been avoiding the dentist due to fear of what a procedure could be like or simply do not enjoy having dental work done, give us a call. In our Florence, Kentucky dental office, we can ensure that you are comfortable and relaxed regardless of what procedure is being performed. When you visit our office, Dr. Thompson will meet with you to discuss what treatments you need and create a plan for how to keep your mouth healthy while easing any fears that you have about dentistry or procedures in general. This way you will be informed and empowered to make decisions regarding dental care without experiencing any anxiety.
How can I ease my fears about dental care without medication?
When you visit our dental office, we can discuss ways that you can prevent experiencing anxiety while receiving dental care. In addition to the nitrous oxide that we can provide, you can try relaxing by drinking a cup of hot tea. There are several natural varieties that you can purchase at the health foods store that will relax and calm you. At times, this can be enough to put you into a naturally relaxed state. Some patients also find that they benefit from meditation and acupuncture.
How can I prepare for my dentist appointment?
Another easy way to calm your fears is to visit our Florence dental office and meet with Dr. Thompson without having actual dental work performed. Taking the time to tour our office, where you can sit in the dentist chair and have a conversation, will allow you to become familiar with our staff and office environment. This way when you do have your teeth cleaned, and dental work performed; you are doing so in an atmosphere that you feel comfortable in with procedures being completed by friendly and familiar faces. During your consultation, we can also discuss what you can expect from a teeth cleaning or a specific procedure. This will help you to prepare mentally for how long it will take, what dental tools will be used, what you could feel during the process and what the recovery period will be, if any. At Elite Family & Cosmetic Dentistry, we have found that the more informed our patients are the more comfortable and relaxed they feel. This one appointment can help to alleviate the fear of dentists that you are experiencing.
At our Florence Dental office we use Nitrous Oxide as a Sedative to help reduce Dental Anxiety in some patients who need it.
Why Is Dental Sedation Needed?
Sedation is a key part of any dental practice, allowing dentists to perform needed work on patients with anxiety or in cases involving particularly complex, time consuming, or painful procedures. The ADA considers nitrous oxide a safe, effective way to manage anxiety and pain.
What is Nitrous Oxide?
Nitrous oxide is a safe and effective sedative agent that is mixed with oxygen and inhaled through a small mask that fits over your nose to help you relax. Nitrous oxide, sometimes called "laughing gas", is an option we offer to help make you more comfortable during certain procedures. It is not intended to put you to sleep. You will be able to hear and respond to any requests or directions the dentist may have. Your dentist will ask you to breathe normally through your nose, and within a few short minutes you should start to feel the effects of the nitrous oxide. You may feel light-headed or a tingling in your arms and legs. Some people say their arms and legs feel heavy. Ultimately, you should feel calm and comfortable. The effects of nitrous oxide wear off soon after the mask is removed.
What are the advantages of Nitrous Oxide?
Nitrous Oxide offers a number of advantages that make it a useful tool for your dentist:
It's fast-acting and most patients tolerate the effects well
Its effects wear off shortly after it's administered so there's no lag time after the procedure as in the case of some other sedatives
After using nitrous oxide, patients are still responsive to questions from their dentist and can be fully engaged with their care
Most importantly, nitrous oxide is considered safe for children and adults, and its use on children is approved by the American Academy of Pediatric Dentistry
What other factors are there to consider when helping patients with Dental Anxiety?
In addition to the use of Nitrous Oxide, the atmosphere here in the Florence Dental office is calm and welcoming which aids in helping the patient cope with the anxiety they may experience when at the dentist.
Here at Elite Family & Cosmetic Dentistry, we pride ourselves in providing friendly, judgment free services to individuals who experience dental anxiety in an effort to improve smiles by providing safe and effective dental care.
Helpful Related Links
About our business, license, and website security
Elite Family & Cosmetic Dentistry was established in 2007
We accept the following payment methods: American Express, Cash, Check, Discover, MasterCard, and Visa
We serve patients from the following counties: Boone County, Kenton County, & Grant County
We serve patients from the following cities: Florence, Walton, Union, Burlington, Oakbrook, Richwood, Independence, and Dry Ridge


National Provider Identifier Database (1649685694). View NPI Registry Information
Healthgrades. View Background Information and Reviews
Website Safety Ratings and Reputation – AVG Threat Labs. View Details
Norton Safe Web. View Details
Trend Micro Site Safety Center. View Details
Back to top of Dental Anxiety