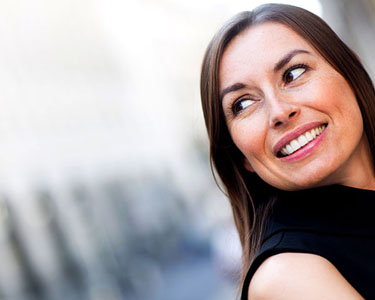 Dental veneers are the revolutionary solution people are using to get a brilliant and preferred smile. With the help of dental veneer technology, people are able to address significant issues like stains on their teeth, chipped teeth, all other kinds of damage to their teeth, and even address issues of mild malocclusion, or crooked teeth. We encourage you to visit our office to find out if it is the right solution for you.
The Process
Once you have decided that dental veneers are the exact treatment you want to use to correct your crooked or stained smile, there are several different procedures you will need to go through in order to be properly prepared to receive them. Most dental veneers can be placed within two office visits, so we will be covering a great deal of ground when you come in to discuss your dental veneers. The initial consultation, or diagnosis, in a treatment planning session, is the very first step you will take in preparing to receive them and radically improve your smile. We encourage you to come with your hopes and goals so we can set the expectation and ensure that we are working toward them.
Getting dental veneers is a big step that many people take with a level of hesitancy. While they want to get a perfect smile, they are afraid of the process, the procedure, and if they will have permanent damage to their teeth. It is for this reason that we take the first consultative appointment to go over all your goals, answer any questions, and allay any fears you may have about having dental veneers placed. We will also be discussing your goals at length and what you hope to achieve by having dental veneers placed. In order to make sure your teeth will be receptive, we will complete an examination to ensure the dental veneers are the appropriate treatment for you. We will also discuss any limitations that may potentially arise because of your particular situation. During the course of the initial consultation, we will be taking x-rays and getting an impression of your teeth as well. Once we're done with the initial consultation, we can start preparing your teeth for the veneers.
In order to prepare your teeth for the dental veneers, your dentist will need to remove about a half of a millimeter of enamel from the teeth suffice. This is roughly the same thickness as the veneer to be placed on the tooth surface. We will use local anesthesia to numb the area before removing any enamel. Following this, we will be taking a model, or impression, of the tooth and sending this to a laboratory that will custom fabricate your brand new veneers. It typically takes between one and two weeks for the lab to return your custom fabricated dental veneers to us so during this time you will wear a temporary set. Once we have the dental veneers in hand, we can start the process of matching, comparing, and bonding the dental veneer permanently to your tooth. This process typically takes a few hours, but at the end of it, you will be leaving with a perfectly crafted smile.
---
Related Posts
September 11, 2020
When looking into cosmetic dentistry treatment options, it is worth considering dental veneers. Dental veneers have grown in popularity for both cosmetic and restorative purposes. They are a versatile treatment option that can be used …
---